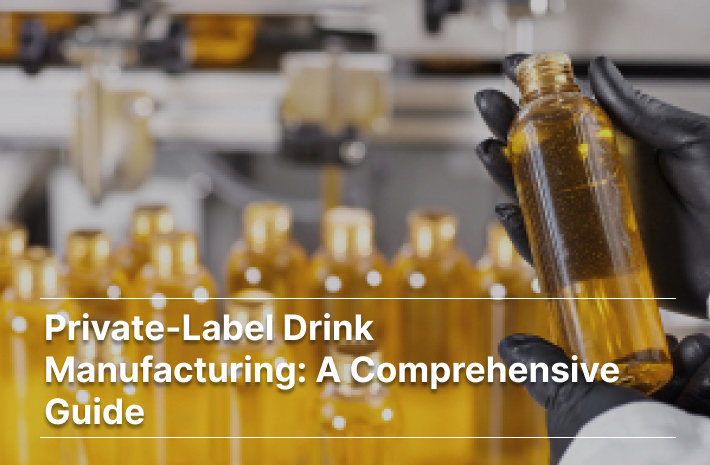 What is the Role of Drink Manufacturers?
Beverage manufacturers produce various types of products such as energy drinks, soft drinks, and alcoholic beverages. These companies work with business owners to create unique beverage products tailored to their brand and target market. As the beverage industry continues to grow and evolve, many business owners are turning to private-label beverage manufacturers to create their own brand of drinks. Private-Label beverage manufacturers are companies that specialize in creating unique beverage formulations for businesses and individuals. These manufacturers offer a wide range of services, including formulation, flavoring, and packaging, to help businesses create their own custom beverages.
Private-Label beverage manufacturers can help with product development, flavor formulation, and beverage packaging. These services allow businesses to create unique and custom beverages that are tailored to their specific needs. With the help of a private-label beverage manufacturer, businesses can create their own brand of drinks without the need for expensive equipment or specialized expertise. In the next section, we will introduce the different types of drinks and beverages one can market towards as a business owner.
Types of Drinks Manufacturers Produce
The beverage industry is a highly competitive market that caters to a wide variety of customer preferences. As a result, several types of drink manufacturers have emerged over the years, each specializing in a particular segment. Understanding the different types of drink manufacturers can be helpful for business owners and entrepreneurs who are looking to enter the industry.
Major Soft Drink Manufacturers
Soft drinks are carbonated, non-alcoholic beverages that are typically sweetened with sugar or artificial sweeteners. Soft drinks are the most widely consumed beverage in the world, with several major soft drink manufacturers dominating the industry. These manufacturers have vast distribution networks and enjoy significant brand recognition, making them challenging for new entrants to compete with.
Some of the major soft drink manufacturers include Coca-Cola, Pepsi, and Dr. Pepper. These companies offer a wide range of soft drink options, including cola, lemon-lime, root beer, and fruit-flavored drinks. These manufacturers also invest heavily in marketing and advertising campaigns to maintain brand awareness and attract new customers.
Energy Drinks and Functional Drinks
Energy drinks and functional drinks are designed to provide consumers with additional benefits beyond hydration. Energy drinks typically contain high amounts of caffeine, sugar, and other stimulants that help to boost energy levels and increase alertness.
Functional drinks, on the other hand, are designed to provide specific health benefits such as improved digestion, immune system support, and enhanced cognitive function. They can include vitamins, minerals, herbs, amino acids, and other nutrients. Some functional drinks also contain bioactive compounds that offer health benefits, such as antioxidants and probiotics. Examples of functional drinks include sports drinks, energy drinks, meal replacement shakes, and vitamin-infused waters.
The market for energy and functional drinks has seen steady growth in recent years, as more consumers look for healthier alternatives to traditional soft drinks. This growth has led to the emergence of several energy and functional drink manufacturers, each specializing in specific formulations and ingredients. Some popular energy and functional drink manufacturers include Red Bull, Monster, and Gatorade. It is important to note that functional drinks are not a replacement for a healthy diet and lifestyle. They are designed to supplement and enhance overall health and wellness. Consumers should be aware of the ingredients in functional drinks and make informed decisions based on their personal health needs and goals.
Private-Label Beverage Manufacturers
Private-Label beverage manufacturers are companies that produce drinks under their client's brand name. These manufacturers are a crucial part of the beverage industry, and their importance has been increasing steadily in recent years. They offer a cost-effective way for businesses to enter the beverage market without the high investment required for building their production facilities.
There are several notable private-label beverage manufacturers in the industry. These include ATP-BIO, Beverage Manufacturing, Pharmatech, and UniWell Laboratories, among others. Each of these companies offers a range of private-label drink options, such as private-label energy drinks, private-label sports drinks, and private-label functional drinks.
Private-Label energy drinks are a popular choice for businesses looking to enter the energy drink market. These drinks are formulated to provide an energy boost to the consumer, and they typically contain ingredients such as caffeine, taurine, and B-vitamins. Private-Label sports drinks, on the other hand, are designed to replenish electrolytes and provide hydration during physical activity. They typically contain ingredients such as sodium, potassium, and carbohydrates.
Private-Label functional drinks (also known as private-label health drinks) are another popular option. These drinks are formulated with specific health benefits in mind and often contain ingredients such as antioxidants, vitamins, and minerals. They can be designed to promote better digestion, improve immune function, or support overall health and wellness.
These manufacturers play an important role in the beverage industry. They offer businesses a cost-effective way to enter the market and provide consumers with a wide range of drink options. As the industry continues to grow and evolve, private-label beverage manufacturers are likely to become even more important in the years to come.
Drink Manufacturing Processes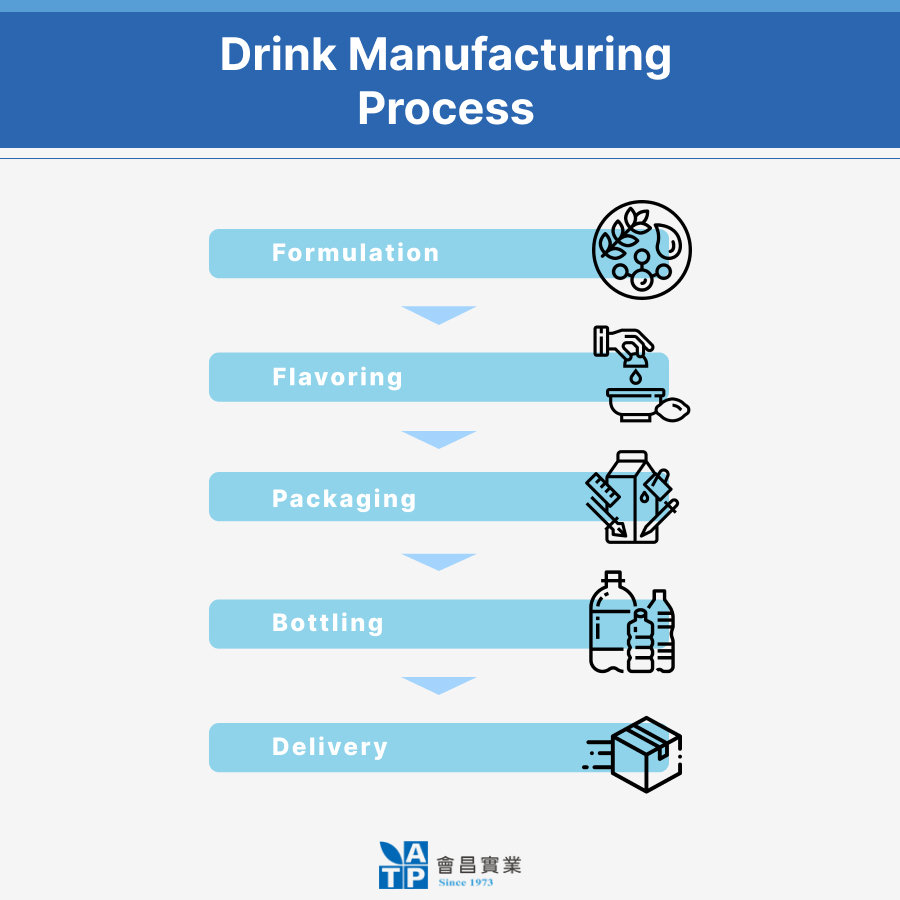 The manufacturing process of beverages and drinks is complex and involves several stages to ensure the final product is of high quality and meets the required standards. The process includes drink formulation, flavoring, filling, and packaging. In general, most contract manufacturing companies follow similar processes. Here we look at ATP-BIO as an example:
ATP-BIO specializes in private-label beverage manufacturing, offering a range of customizable options for clients to choose from. Its unique approach involves collaboration with clients from the initial stages of the manufacturing process, ensuring that the final product meets their specific requirements and expectations.
Drink Flavoring and Formulation
Flavor and formulation are the backbone of any drink manufacturing process. The right flavor and formulation make the difference between an average drink and a great one. Drink flavoring and formulation are complex processes that require expertise in sensory science, chemistry, and the latest trends in the beverage industry. This process involves experimenting with different ingredients, ratios, and flavors until the perfect blend is achieved.
Drink formulation starts with understanding the client's needs, target audience, and market trends. This process involves experimenting with different ingredients, ratios, and flavors until the perfect blend is achieved.
Once the formula is finalized, the drink flavoring process starts. This process involves adding flavors to the drink formula to create a unique taste that meets the client's specifications. ATP-BIO offers a wide range of flavors to choose from, including natural, artificial, and organic flavors. The flavors are added in specific quantities to achieve the desired taste and aroma.
ATP-BIO is an expert in flavoring and formulating health drinks, balancing taste with nutritional benefits to create products that not only taste great but also provide functional benefits to the consumer. The company has developed some of the best-selling drink products in the industry, boasting a proven track record of success.
To create a tasty and nutritious health drink, the preference of the target consumer must be considered first. Nutritious and flavorful ingredients should be chosen, and experimenting with different flavor combinations is necessary. Fine-tuning the product by adjusting sweetness and acidity is also important. Regulatory requirements must be met, such as nutritional requirements and scientific evidence to back up label claims.
ATP-BIO's expertise in drink formulation and flavoring ensures that clients receive a high-quality product that meets their specific needs and requirements. The company's commitment to using top-quality ingredients and adhering to strict regulatory standards ensures that clients receive a safe and nutritious product that consumers will love.
Drink Packaging and Bottling
ATP-BIO offers these drink packaging options for their private-label beverages, ensuring that their clients have a variety of options to choose from for their products. By providing different types of packaging, ATP-BIO can help their clients meet the diverse needs and preferences of their customers. Packaging options for drinks include sachets, or bottles. Ambient products are becoming more popular due to high cold chain transportation costs and online sales growth. Retort and hot fill methods are suitable for small batch sizes, and quality control measures ensure product safety.
Drinks can be packaged in sachets, or bottles to meet the requirements of different points of sales requirement. Due to the high cost of cold chain transportation and the significant growth of online sales, ambient products have become more popular in recent times.
For smaller batch sizes and less operationally risky processing, retort, and hot fill methods are more suitable than aseptic processing. The retort process involves exposing products to high temperatures for an extended period, which can have a greater impact on product quality than hot fill. However, the retort process can be used for both high and low-acid products.
On the other hand, hot fill processing is only suitable for high-acid products, and the sterile product is filled into non-sterile packaging containers during the process. The product's heat is used to sterilize the container, and the container may need to be inverted during the process. The heating time is predetermined, and cooling takes place immediately after.
It is crucial to carefully select ingredients that meet commercial sterilization requirements and ensure product safety.
| | | | |
| --- | --- | --- | --- |
| Drink Package | Image | Specifications | Features |
| Tritan Bottle | | 50 ml | Light, small, easy to carry, good for preservation, available for single use, glossy surface with good texture, displayable on the shelf |
| Liquid Sachet | | 10ml-60ml | Easy to carry, good for preservation, available for single use, glossy surface with good texture, displayable on the shelf |
| Glass Bottle | | 20ml, 30ml, 50ml, 100ml | Easy to carry, good for preservation, available for single use, glossy surface with good texture, displayable on the shelf |
The Tritan bottle is perfect for those who prefer a light and portable drink container, while the Liquid Sachet is great for single-use and on-the-go consumption. The glass bottle, on the other hand, offers a classic and sophisticated look, making it perfect for premium beverages. Quality control measures are in place throughout the production process to guarantee that the product meets the necessary standards for purity, potency, and safety. This includes testing raw materials before use, monitoring production for consistency, and testing the finished product before it is released for sale.
Why ATP-BIO is the Most Reliable Beverage Manufacturing Company
ATP-BIO is a leading private-label beverage manufacturer that offers a range of drink options, including energy drinks, sports drinks, health drinks, and functional drinks. They stand out in the industry for their expertise in drink formulation and flavoring, as well as their commitment to using high-quality ingredients.
In terms of drink packaging, ATP-BIO provides a range of options, including Tritan bottles, liquid sachets, and glass bottles, all of which are easy to carry, preserve well, and have glossy surfaces with good texture.
ATP-BIO is a reliable partner for clients looking to develop their own private-label drinks. Their manufacturing process is rigorous and carefully monitored, ensuring that all products meet high standards of quality. Moreover, their team of experts is available to offer guidance and support throughout the process.
Overall, ATP-BIO is a dependable choice for companies seeking a trusted partner in beverage manufacturing. To get started with developing your own private-label drink, visit their website to check out more information.

ATP-BIO also provides the services below: