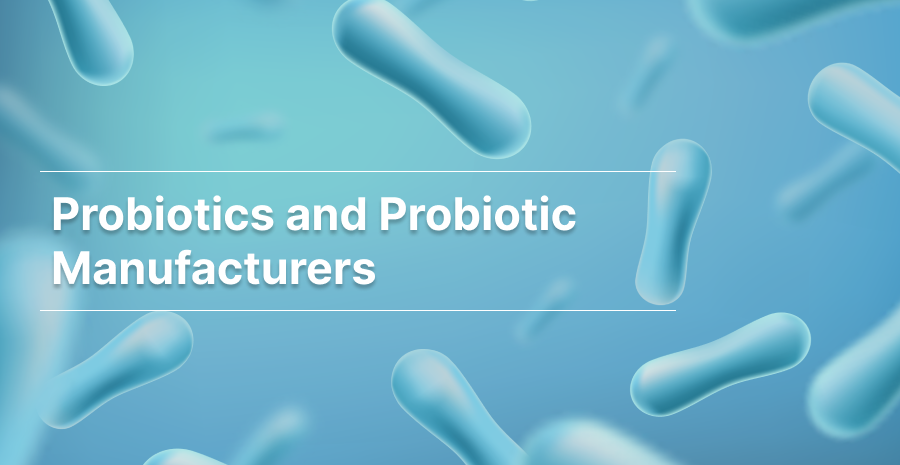 At ATP-Bio, we take immense pride in being a frontrunner in the probiotic manufacturing industry, dedicated to delivering excellence in gut health. We have established ourselves as the go-to source for high-quality probiotics through cutting-edge technology, stringent quality control, and an unwavering commitment to innovation.
Introduction to Probiotics
Probiotics, often referred to as "good bacteria," are live microorganisms that confer health benefits when consumed in adequate amounts. These beneficial bacteria play a crucial role in maintaining the delicate balance of the gut microbiota, which in turn influences overall health and well-being.
Our Role as a Probiotic Manufacturer
As a probiotic manufacturer, our role is pivotal in promoting health and well-being through the production of high-quality probiotic products. We understand the crucial significance of probiotics in maintaining a balanced gut microbiome, which in turn influences overall health. Our primary responsibility lies in carefully selecting and cultivating probiotic strains that offer specific health benefits. Through advanced technology and rigorous quality control measures, we ensure the viability and potency of our probiotics. Additionally, our commitment to continuous research and innovation allows us to stay at the forefront of the industry, discovering new strains and optimizing fermentation processes. As a customer-centric company, we pride ourselves on offering custom formulations to cater to unique client needs. Our goal is to empower our clients with top-notch probiotics, enabling them to improve the lives of their consumers and contribute to a healthier world.
Probiotic Manufacturing Process and Capabilities
At ATP-Bio, we take pride in being a trailblazer in the realm of probiotic solutions, offering unparalleled expertise in blending, granulation, and packaging services. Our relentless dedication to perfection ensures the harmonious fusion of probiotic strains and premium ingredients, resulting in formulations that surpass expectations and deliver optimum health benefits to end users.
Crafting Excellence: Our Probiotic Manufacturing Process Unveiled
Step into the world of our probiotic manufacturing process, meticulously designed to surpass industry standards and deliver exceptional results:
1. Precise Blending for Perfect Formulations

The heart of our manufacturing process lies in the blending step, where we artfully combine probiotic strains with select ingredients like prebiotics, flavor enhancers, and binding materials. This strategic fusion creates formulations with unparalleled effectiveness and a seamless taste experience.
2. Granulation for Uniformity and Quick Absorption

Our expertly crafted blends undergo granulation, a transformative process that achieves uniform distribution of each ingredient. Not only does this ensure consistency, but it also facilitates rapid dissolution in the gut, allowing probiotics to be readily absorbed for maximum impact.
Preserving Potency with Low-Temperature Granulation
Innovation is at the core of ATP-Bio's manufacturing practices. For powder packs, we employ cutting-edge low-temperature granulation technology. This pivotal step safeguards the viability and activity of probiotics throughout the process, ensuring their potency remains intact.
3. Advanced Packaging for Prolonged Viability

In the final stage, we embrace advanced packaging techniques to ensure the longevity of probiotic viability. Our meticulous packaging methods minimize exposure to oxygen and moisture, preserving the strains' potency throughout the entire shelf life.
Automated Packaging: A Commitment to Quality and Efficiency
We employ a fully automated packaging line to maintain the highest quality and consistency. This sophisticated approach not only enhances production efficiency and yield rate but also guarantees the stability of the final product.
ATP-Bio's probiotic manufacturing process is a testament to our unwavering commitment to excellence. We deliver probiotic products that transcend industry standards through precise blending, state-of-the-art granulation, and advanced packaging, ensuring our customers receive only the best quality and efficacy. Discover the pinnacle of probiotic manufacturing with ATP-Bio and elevate your brand to new heights of success.
If you are interested in our probiotic production, please call us at +886-2-25855777 or email us at eservice@atp-bio.com. We are happy to talk with you about your needs.
Our Probiotic Packaging Options
At ATP-Bio, we understand the paramount importance of preserving probiotic product quality by safeguarding it from the harmful effects of moisture and oxygen. Our unwavering commitment to excellence extends to our packaging options, where we employ a meticulous manufacturing process, ensuring packaging integrity and unmatched product quality.
A Multitude of Probiotic Packaging Solutions
ATP-Bio takes pride in offering a diverse range of four cutting-edge probiotic packaging options, each tailored to meet specific needs:


Probiotic Package

Image

Specifications

Features

Glass Bottle




Ideal for preservation, ensuring probiotics' potency over extended periods.

Suited for a variety of capsules, including vegetable, gelatin, and enteric-coated capsules.

Perfect for tablets, chewable tablets, and film-coated tablets, maintaining their efficacy intact.




Plastic Bottle

Bottle diameter 4-6 cm (Size is adjustable)






Tailored to accommodate vegetable, gelatin, and enteric-coated capsules.

Preserves tablets, chewable tablets, and film-coated tablets while protecting them from harmful UV rays.

Creates a barrier against moisture and dust, enhancing the longevity of the capsules.

PTP Packaging

Conveniently packs ten capsules or tablets in one easy-to-carry package.





Ensures the utmost preservation, keeping probiotics in peak condition.

Ideal for users on the go, providing ease and portability.

Powders in Sachet

8 cm*10 cm (Size can be adjusted)





Offers unmatched convenience and portability.

Ensures optimal preservation of probiotics, maintaining their potency.

Designed for single-use, making it convenient for consumers.

Perfect for small-volume packaging needs.
Our Expert Recommendation
In our dedication to providing the best possible probiotic products, we highly recommend formulating probiotics into either powder packs or capsule forms. Due to high-pressure processing, tablets may compromise the live microbial cells, impacting their efficacy. Additionally, probiotics in liquid form are inherently unstable, making them unsuitable for incorporation into prebiotic beverages.
Types of Probiotic Strains
At ATP-Bio, we harness the potential of a wide array of microbial species, offering you a compelling selection of probiotic strains to elevate your brand and revolutionize the well-being of your consumers.
1. Lactobacillus: The Gut's Best Companion
Naturally found in the human gut, mouth, and vagina, Lactobacillus boasts an impressive track record in promoting health. From its presence in fermented milk products like yogurt to its effectiveness in treating skin diseases, bacterial vaginosis, and upper respiratory tract diseases, Lactobacillus plays a pivotal role in nurturing intestinal health. One standout strain, Lactobacillus helveticus, traditionally used in cheese manufacturing, offers unique probiotic effects, including immune system enhancement and allergy regulation. Recent studies suggest that Lactobacillus helveticus can significantly impact the microbiome and contribute to overall well-being, especially for children.
Another notable member, Lactobacillus rhamnosus GG, has garnered extensive clinical support for its multi-functionality. Linked with allergy prevention, symptom relief, body regulation, vitality improvement, digestion enhancement, and appetite stimulation, Lactobacillus rhamnosus GG proves to be a powerhouse probiotic strain.
2. Bifidobacterium: Nurturing Gut Health
Dominantly residing in the human gut, Bifidobacterium plays a key role in addressing various diseases, such as inflammatory bowel disease, diarrhea, and colon inflammation. Additionally, Bifidobacterium produces essential nutrients like vitamin K, vitamin B6, and folic acid, further contributing to overall health and vitality.
3. Nonpathogenic Strain of Escherichia coli: Fortifying the Gut Barrier
Safety and efficacy are the hallmarks of our nonpathogenic strain of Escherichia coli. Consumed with confidence, this strain regulates immune function and strengthens the gut barrier. It goes the extra mile by producing antibacterial compounds that effectively suppress disease-causing bacteria, ensuring robust gut health.
Choose the Perfect Probiotic Strains for Your Vision
We understand that the key to exceptional probiotic products lies in the selection of the right probiotic strains. With our diverse range of microbial species, we empower you to craft formulations that align perfectly with your brand's vision. From gut health to immune support and beyond, our probiotic strains offer a wealth of possibilities to cater to your consumers' unique needs.
Why is ATP-Bio the Right Probiotic Contract Manufacturer for Your Business?
ATP-Bio is an esteemed probiotic contract manufacturer, which is NSF GMP-certified, has been in the supplement manufacturing business for over forty years, and improving the quality standards along the way.
We have a fully-automated, GMP-certified production line that we use to produce high-caliber probiotic supplements. We comply with international quality standards, including GMP, HACCP, ISO 22000, and HALAL certificates, and our experienced quality assurance staff will ensure the standards are met at every point.
ATP-Bio holds various quality certifications, including FDA, ISO22000, HACCP, and HALAL.
| | | | |
| --- | --- | --- | --- |
| | | | |
| NSF GMP | HACCP | ISO22000 | HALAL |
| | | | |
| FDA | D-U-N-S® Registered | Excellent Manufacturer | Taiwan Best |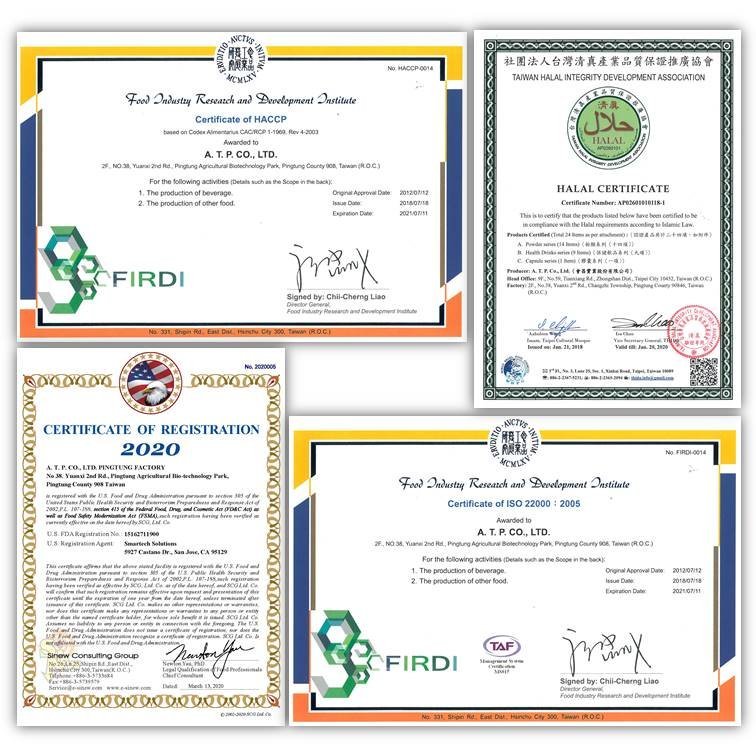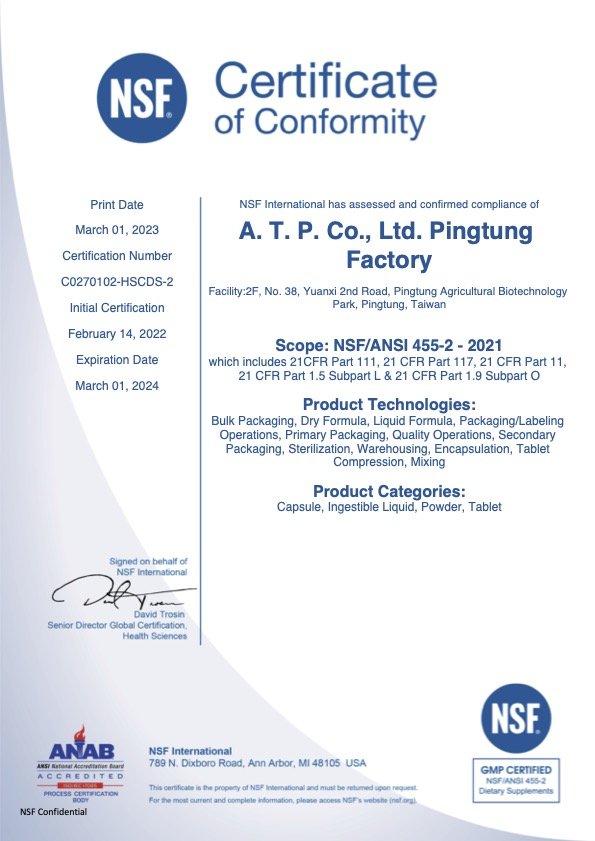 We will carefully consider your product needs and develop individualized solutions tailored to your requirements. Please call us at +886-2-25855777, email us at eservice@atp-bio.com, or fill in the inquiry form today to get a detailed breakdown of our product range and clarify any of your questions related to probiotic manufacturing.
ATP-Bio also provides the services below: